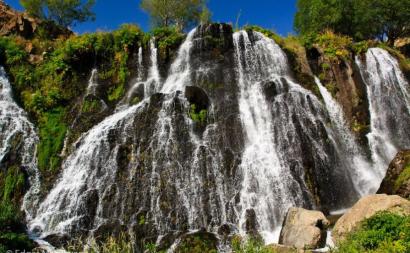 The Shaki waterfall, which is included in the list of state natural monuments, has almost dried up. Citizen Gor Karapetyan published a photo about this on May 2, 2020, ""Shaki" SHPP carries water intake from Shaki River, which forms Shaki waterfall.
Until 2017, as a result of the operation of the SHPP, Shaki waterfall was formed during the opening of the valve by the SHPP.
As a result of the project implemented by EcoLur - "Support to SHPP-relating reforms through the dialogue of public and RA Nature Protection Ministry for Sustainable Use of River Ecosystems", RA Ministry of Nature Protection has launched a program to rehabilitate small HPPs. Due to the project, it was decided to establish a new mode of operation of "Shaki" SHPP.
Hakobjanyan and Galstyan HPP LLC, which has been operating Shaki SHPP since 2017, will not be able to carry water from the Shaki River from March 15 to April 30, from 11:00 to 17:00, from May 1 to September 30 from 11:00 to 19:00, from October 1 to November 15 from 11:00 to 17:00.
As EcoLur was informed by Environmental and Mining Inspection, "The inspection can check the operation of Shaki SHPP only in case of a written complaint."
Source: ecolur.org