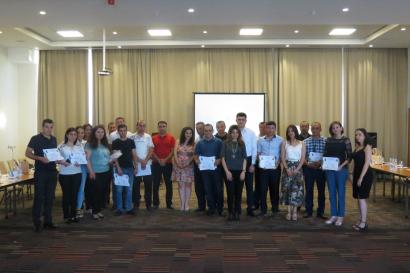 On June 24, in Jermuk, "Eurasia" CPO together with the Ministry of Education, Science, Culture and Sport held a round-table discussion entitled "Solar Energy as a Sustainable Community Development Guidance".
The project became a reality within the framework of grant programs provided by the Ministry of Education, Science, Culture and Sport of the Republic of Armenia.
The purpose of the round-table discussion was to assist Armenia to transition to "green" energy, contributing to the improvement of ecological and environmental conditions in Armenia's communities and the reduction of the number of greenhouse gases (CO2) emitted. The project intends to promote the use of alternative energy as a means of reducing negative impact on the environment and improving environmental and energy security in Armenia.
The program was attended by General Director of "Eurasia" CPO Liana Yesayan and staff of the organization, governor of Vayots Dzor Region Trdat Sargsyan, deputy head of Jermuk community Margaryan Samvel, "Green Option" organization's expert Arman Nalbandyan, community leaders and employees.
During the roundtable, the participants of the program received the necessary information on the importance of green energy, the advantages and capabilities of its use in Armenia.
At the end, the community leaders and community representatives were given certificates of attendance.