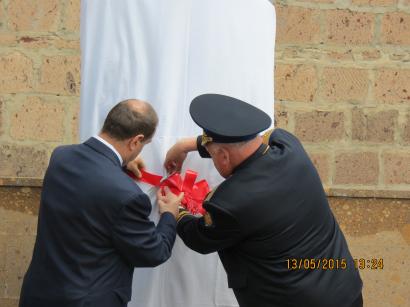 On May 13, 2015, a solemn opening ceremony of a monument-khachkar dedicated to the memory of Suren Mamikon Torosyan, a participant in the Great Patriotic War, took place at Khachkar Alley in Aragatsotn community of Aragatsotn region. A large crowd had gathered: war veterans, community residents, the head of CSTO InstituteNver Torosyan, Union of Cossacks of Armenia, Governor of Aragatsotn province S. Sahakyan, Head of Aragats community H. Hovhannisyan, USSR hero, Lieutenant General YV. Babansky, on whose initiative a monument-khachkar was built Hovhannisyan is a Lieutenant General, First Commander of the Russian Border Department in the RA, and other honorary guests.
The inauguration of the monument-khachkar was held with great luxury, festive mood was everywhere. Flowers were laid at both the newly built monument-khachkar and the memorial to those who was killed during the Great Patriotic War.
A big concert dedicated to the May Triple Holiday was held at the Community House of Culture entitled "Nothing is Forgotten, Nobody is Forgotten". The orchestra of the Border Department of the Federal Security Service of the Russian Federation, the students of Charentsavan Art Center, the singers of the region, the students of the "Gusan Ashxuyj" School of Art in Aragats community have performed.
Many congratulations and words of gratitude were given during the event. The community members, the military, as well as the guests were awarded "Golden Aragats" medals and diplomas from "Eurasia" CPO.
At the end of the event, the Russian frontier troops invited everyone to a "field canteen" where the crowd felt themselves as a soldier and a defender of the homeland.