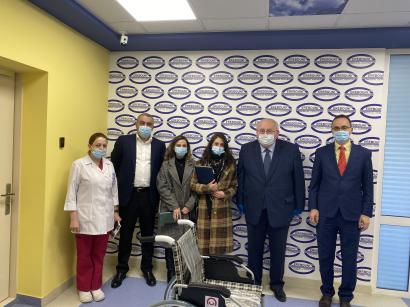 With the aim to assist in resolving crucial problems in the area of public health in the Republic of Armenia, "Eurasia" CPO, in cooperation with the Embassy of Poland in Yerevan, implemented a project of humanitarian assistance to the injured people due to the military conflict.
"Improving the quality of health services in local intensive care facilities in Armenia" project is aimed to provide numerous modern wheelchairs adjusted to the needs of the disabled people that have received central and peripheral nervous system, locomotive system serious injuries.
On 25.11.2020 the part of wheelchairs was given to "Erebuni" medical center and the Central clinical military hospital of Yerevan which, at this difficult time, is doing its best to help our soldiers overcome their health problems, to ease the recovery process of each of them.
The Ambassador of the Embassy of the Republic of Poland Mr. Paweł Cieplak and the representatives Bartczak Krzysztof and Naira Harutyunyan , the representatives of "Eurasia" CPO and the heads of medical centers Mikayel Manukyan and Vahan Gevorgyan have participated in the ceremony of handing over the wheelchairs to the hospitals.
This is the least we can do to some of victims of the current conflict.