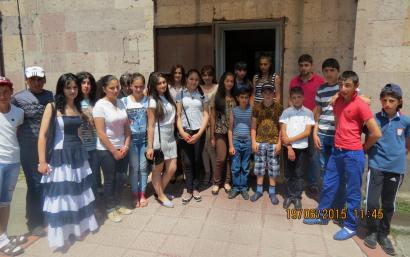 On June 19, 2015 was organized an excursion for 30 schoolchildren of schools number N1 and N 2 after Derenik Demirchyan, Aragats community of the Aragatsotn Region. The sponsor of the excursion was "Eurasia" CPO. CSTO Institute and Aragats community municipality were active organizers of the excursion.
First, students were taken to "PRINTINFO" Armenian- German Joint Venture LLC (printing house). The experienced worker familiarized students with the process of book, notebook creation … All questions of interest were answered by the experienced and enthusiastic workers of the printing house.
Later on, students had a tasty lunch in "GRAND CANDY" cafeteria, after which were directed to the "Matenadaran" and got acquainted with the ancient manuscripts. Research Institute working process was also introduced.
Excursion ended by a photo shoot in the yard of the "Matenadaran" after M. Mashtots under the influence of ancient manuscripts.