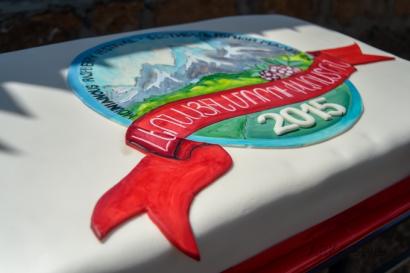 "Mountainous Raspberry festival was organized" on July 23, 2015 in the Aragats Community of the Aragatsotn Region by the initiative of "Eurasia" Charity Public Organization. The festival was organized in the Aragats community of Aragatsotn Region in the scope of "Development of tourism, culture, Armenian traditional values".
The festival included different sections that would interest all levels of society: elderly people, younger ones, businessman…
Sections were the following:
"A tasty section" where participants presented their skills making various tasty jams, different types of fruit juices, teas, pastry. As well as a competition was held, as a result of which the best masters got presents.

A section for kids, where children were feeling in the "Fairy tale of mountainous raspberry", supervised by the professional center for children. There were games, painting, aqua grim, different types of entertainment for kids.

Exhibition – forum where woks of masters were Commercial sections were also provided where all interested people could buy raspberry, national food characteristic to Aragats community, handworks of masters, etc. …
Festival was accompanied by a concert program with the participation of different dancing groups of Aragats community.
Many guests were present at the festival: Ambassador Extraordinary and Plenipotentiary of the Russian Federation to Armenia Ivan Volinkin, representatives from Ministry of Culture and representatives from municipality . Vardapet (bishop) Andrey was also present at the festival who presented a jubilee medal to the president of "Eurasia" CPO Nver Torosyan from the name of Patriarch of Moscow and All Russia Kiril.