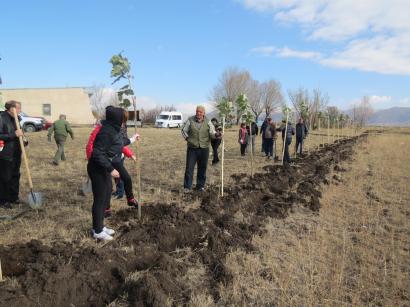 "Eurasia" CPO emphasis the environmental issues and the issues of green territories of the country more than other issues concerning the country. That is the reason why the organization has been implementing various tree-planting activities during its 20 years of activity.
This time a large-scale tree planting took place on November 4 on the slopes of Aragats Mountain and in «Eurasia» Dendrological Park, which was founded by the "Eurasia" CPO in 2003.
The "Dendrological" park and the slopes of Aragats Mountain were replenished with new trees, shrubs and fir trees. During the autumn tree planting season around 600 trees, 100 shrubs and more than 20 fir trees were planted. New planted trees and shrubs are in accordance with the climatic conditions of the area and have high adhesion.
The organization has repeatedly implemented vital environmental projects in a number of Armenia's deforested areas. Since its existence, the organization has undertaken serious steps to combat desertification- thousands of trees have been planted and restored by the organization.